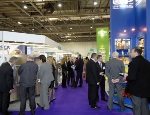 Europe's leading provider of stainless steel food manufacturing equipment, Teknomek is currently preparing for the Pro2Pac, packaging exhibition at the ExCel London between 13-16th March 2011. To mark the occasion, Teknomek will be introducing some exciting new additions to its already comprehensive range of stainless steel equipment and furniture.
The stainless steel manufacturer will be official launching its new stainless steel industrial kickstool at the forthcoming exhibition. The kickstool has been developed in conjunction with Teknomek customers in order to fill the need for a robust and portable step, suitable for use in food manufacturing and other hygienic environments. Teknomek will also be announcing other new products nearer the show.
Stainless steel experts will be on hand to speak with visitors who are looking for product ideas or inspiration to fulfil special requirements, such as dedicated workstations or other application specific requests. The design team will also be able to advise on hygienic area design capabilities for organisations looking to build or refurbish complete departments.
In addition, Teknomek will be taking requests for copies of its new catalogue which will be published shortly after the show. Finally, all visitors to the Teknomek stand will have the opportunity to enter a prize draw for the chance to win a fantastic and totally unique stainless steel clock.
Teknomek will be situated at Stand A42 in the exhibition hall.
For further information about Teknomek's range of stainless steel catering equipment, visit www.teknomek.co.uk or for further enquiries see the contact details below:
Tel: +44 1603 788833
Email: mail@teknomek.co.uk
About Teknomek
Teknomek is Europe's leading manufacturer of stainless steel furniture and equipment. The company provides high quality and cost-effective stainless steel solutions to industry hygiene requirements for all sectors such as catering, food processing, pharmaceutical and veterinary.