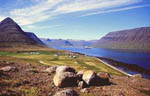 On 14th April 2010, Iceland became infamous when the Iceland volcano Eyjafjallajokull erupted. Ever since, the country has been under the spotlight. However, this scrutiny was followed by a much-deserved increase in positive attention. For example, the U.S. national publication, USA TODAY has recently voted Iceland as a top travel destination for 2011.
This is not the only time Iceland has publicly been voted as a top travel destination. Lonely Planet, the largest travel guidebook and digital media publisher in the world, voted Iceland as one of its 'Perfect Trips for 2010.' The popular travel publisher also listed Iceland's Westfjords as one of its top '10 regions to travel for 2011'.
The newly released Best in Travel 2011 guide by Lonely Planet, described the Westfjords as "an outdoor adventurer's dream destination". It also explains how the unique landscape ranges from "soaring mountains" to "unfathomably deep and silent fjords" clustered with tiny fishing villages. The guide includes top 10 lists for favourite upcoming cities and countries all compiled by Lonely Planet's staff, authors and online communities.
In addition, Iceland's capital, Reykjavik has also been voted as the top Christmas holiday 2010 destination, according to CNN's travel website, CNNGO. Reykjavik was ranked number one, beating off strong competition from some of the world's most incredible destinations. Amongst those listed are Nuremberg, Germany; Pogost, Belarus; Salzburg, Austria and Sydney, Australia.
This positive exposure may have been as a result of the online tourism campaign, 'Inspired by Iceland'. The 'Inspired by Iceland' tourism campaign, launched in June 2010, set out to boost the image of Iceland and help encourage people to visit the country again. Inspired by Iceland's main focus is to allow individuals to share their stories and memories of Iceland, and to showcase the island's many unique and appealing attributes, such as thrilling activities, cultural events and beautiful scenery.
For further details about visiting Iceland, things to do and the Inspired by Iceland campaign, visit www.inspiredbyiceland.com