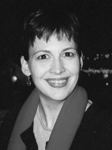 Alex Bennert, Chief Search Strategist at the Wall Street Journal, has been announced as a guest speaker for the upcoming Reykjavik Internet Marketing Conference and expo (RIMC). The conference is scheduled for 11th March 2011 in Reykjavik, Iceland and will be focusing on Mobile Marketing and eCommerce through Internet Marketing.
Alex Bennert specialises in algorithmic search and has worked with clients such as Zillow, JibJab and SFGate. A longtime SEO professional with years of agency experience, she is now the house SEO for the Wall Street Journal as well as other Dow Jones sites (Marketwatch, Barrons, SmartMoney). Alex works across all levels of the company tackling search-related issues and determining how different strategies will meets the business goal of each site.
The upcoming Reykjavik Internet Marketing Conference 2011 is an indispensable networking tool for marketing and advertising people, sales and marketing managers, web editors, as well as directors of small and large businesses. The conference is also ideal for anyone who is interested in business on the Internet.
Other confirmed speakers at RIMC 2011 include: Rich Kelly, Facebook, Head of Mid Market Sales EMEA (UK); Crisp Sheridan, SAP, Senior Director of Search Marketing (U.S.); David Main, Dominion Marine, Head of Search Marketing (UK; Oscar Carreras, Hotels.com, SEO Manager (UK); Simon Heseltine, AOL Inc, Principal Marketing Manager News & Information Division (U.S.) and Preston Carey, Yandex, Business Development Manager USA/EU (U.S.).
RIMC 2011, to be held at the Smaralind Business Centre in Reykjavik, will be centering on Mobile Marketing and eCommerce through the potentials of Internet Marketing; whilst also exploring the possibilities created by employing a structured promotional approach and advertising campaign.
To find out more regarding the Reykjavik Internet Marketing Conference 2011, visit www.rimc.is/en.