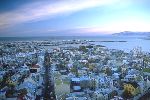 Iceland's flagship airline, Icelandair is offering people the chance to get away this winter with the Reykjavik Highlights City Break.
The city break in Reykjavik package provides holiday makers with everything they need, including flights, accommodation in selected top-class hotels and the Iceland Highlights tour. With temperatures across Europe reaching a record low and Iceland's capital city currently experiencing mild, snow-free weather, this holiday in Iceland package couldn't of come at a better time.
The Iceland Highlights tour begins with a trip to some Reykjavik landmarks then heads to the countryside to visit the Geysir geothermal area, the incredible Gullfoss waterfall and the Hveragerdi village.
The Iceland tour allows passengers to explore the breathtaking landscape that surrounds the capital city as well as doing some sight seeing and shopping in the downtown area. In addition to all this, those who travel between January and March 2011 have the opportunity to book a Northern Lights tour with a discount of 50 percent.
The Reykjavik Highlights City Break must be booked before January 5th, and the travel period expires at the end of April 2011. Icelandair flies from Glasgow, London Heathrow and Manchester.
For more information about the Reykjavik City Break and flights to Iceland, visit www.icelandair.co.uk