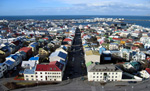 For those looking to find their perfect hotel in Iceland, Randburg holds a vast selection of links to hotels in Reykjavik, Northern Iceland, the Westfjords and many other places around the country.
Hotels in Iceland can be found all over the country, from the populated locations to the most open of spaces and romantic settings.
In Iceland's capital city, Reykjavik you can find many high quality hotels, most of them either situated in the downtown area or within walking distance, where it is bursting with nightlife and culture.
Most hotels in Reykjavik have great facilities, spacious rooms and first-class service, which cater for both businessmen and tourists. There are also attractive and comfortable hotels located in quiet residential areas, offering friendly service and a relaxed atmosphere.
Outside of Reykjavik, all types of hotels can also be found; all around Iceland there are high class conference hotels, quality hotels in beautiful surroundings, Icelandic hotels that specialise in winter activities and adventure tours, etc.
Randburg lists around 80 hotels across the whole of Iceland. Just over 30 hotels in the greater Reykjavik area, 5 hotels in the Reykjanes area, 9 in the North of Iceland, 17 in the south, 4 in the east, 9 in the west and 4 in the Westfjords .
Randburg is an international, multi-language business database bringing together a number of parties and services with a common interest in international marketing.
To find the perfect hotel in Iceland visit, http://www.randburg.com/is/tourism/acco/hotels_in_iceland.asp