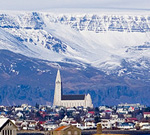 With only three weeks left, time to finish your Christmas shopping is slowly running out. Xmas gift ideas for family and friends need to be organised soon to beat the pre-holiday rush. However, sometimes it's a difficult task finding something special. So why not this Christmas avoid all the seasonal stress and treat your loved ones to a holiday in Iceland with Icelandair.
Icelandair, Iceland's airline, is offering sensational gift certificates available online for purchase, lightening your Christmas shopping load. This gift certificate can be used as payment for all Icelandair's flights to Iceland or the USA.
You can chose from a range of patterned gift certificates and select an amount to would like to deposit along with personal text, which can then be redeemed online at anytime within two years from the original date of purchase. There are no limitations on travel time or length of stay other than the rules that apply to the fare or package.
Iceland is the perfect destination for an incredible holiday all-year round. There are so many incredible landmarks to be seen, such as Gullfoss, the Golden Waterfall; Geysir, the shooting hot spring; the Mid-Atlantic ridge at Thingvellir National Park and Kerid, the volcanic crater lake. There is always something everyone in Iceland.
Icelandair departs from three destinations across the UK; London Heathrow, Manchester and Glasgow.
To find out more about Xmas gift ideas with Icelandair visit, https://www.icelandair.co.uk/offers-and-bookings/book-gift-certificate/book-gift-certificate/#