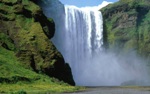 Icelandair passengers on flights to USA from Glasgow can now enjoy an Iceland stopover and experience all the country has to offer, from the moon-like landscape of the Reykjanes peninsula to the South coast with its black sand beaches, waterfalls and glaciers.
Icelandair annouced it will be continuing its flight service from Glasgow this winter with four flights to Iceland per week operating on Monday, Wednesday, Friday and Saturday. This is good news for passengers booking flights to North America from Glasgow as Icelandair is offering its transatlantic passengers the opportunity to stop over in Iceland.
Iceland-stopovers give passengers the change to experience all that the country has to offer such as spectacular lakes, rivers, waterfalls, mountains, hot springs and in the winter the breathtaking northern lights. Passengers also get the chance to explore the bubbling hot springs of Geysir, the historic beauty of Thingvellir and the breathtaking sight of the Gullfoss waterfall, especially when the water turns into Ice during the depths of winter.
Icelandair has been connecting the world to Iceland for over 70 years. Icelandair flies from the UK to Iceland with connecting service to Boston, Halifax, Minneapolis/St. Paul, New York City, Orlando, Seattle and Toronto. Dulles International Airport in Washington, DC will also be added to the service in May 2011.
For further information regarding transatlantic flights and Iceland-stopovers, visit www.icelandair.co.uk