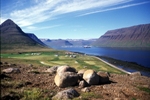 Lonely Planet describes the Iceland Westfjords as "an outdoor adventurer's dream destination" and explains how the unique landscape ranges from "soaring mountains" to "unfathomably deep and silent fjords" clustered with tiny fishing villages. These are just some of the many reasons why Lonely Planet has listed the Iceland Westfjords as one of its top 10 regions to travel for 2011.
Lonely Planet, the largest travel guide book and digital media publisher in the world, has recently released its top regions list, which is featured in the new Best in Travel 2011 guide. The travel guide presents the best places to go and things to do for the coming year.
The global travel guide highly recommends the Iceland Westfjords, ranking the region in fifth place in the top ten list. Lonely Planet particularly suggests travelling to the uninhabited wilderness region of Hornstrandir, one of the country's premier hiking destinations, and also home to Drangajokull, the last surviving icecap in the region.
Lonely Planet also recommends the most populated town in the Westfjords, Isafjordur, home to the annual Aldrei For Eg Sudur (Never Been South) music festival, where bands from all over the country come together to entertain the masses in a weekend full of festivities. Additionally, the travel guide describes Isafjordur as a friendly, welcoming, "mini-metropolis" that is a great place to stock up before driving on to smaller villages that line the coast.
Additional details about what to do in Iceland and places to visit around the country can be found at www.inspiredbyiceland.com