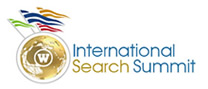 Developing global content, geographic local search and international mobile marketing will be among the sessions on offer to delegates of the International Search Summit Munich on 4th April.
The global conference series, hosted by multilingual search agency WebCertain, will be in Munich for the first time and will offer delegates a day of in-depth insight, discussion and analysis of the topics and factors affecting international online marketers. The Summit will be held entirely in English, with speakers from around the globe covering a range of international SEO, PPC and Social Media topics.
Andy Atkins-Krüger, who will chair the event says, "We're excited to be working with SMX to bring the International Search Summit to Munich and believe the Summit will complement the rich content of SMX with its international focus.
"It is a great opportunity for marketers from across Europe to gather together and provides a forum for them to delve deep into the multilingual and multicultural challenges they are facing".
The Summit agenda is now online, and speakers will be announced in the coming weeks. Speaker pitches are still being accepted. Early Bird Registration for the Summit is available until 3rd December and tickets can be purchased individually or as a package with full SMX conference passes.
Munich is just one of the 2011 venues for the International Search Summit, as it joins with SMX to provide international content at SMX events around the world. The Summit will also take place in San Jose, London, Seattle and New York.
About the International Search Summit
The International Search Summit is a series of conferences dedicated to international and multilingual search and social media. It was started by multilingual web marketing agency WebCertain in 2008 due to the lack of international content on existing conference agendas.
The conference brings together some of the leading search marketing experts from around the globe who provide advice on running successful international campaigns. It has taken place in London, Oslo, Berlin and Seattle. From 2011, the International Search Summit will be partnering with Search Marketing Expo (SMX) to run events across the US and Europe.
See www.internationalsearchsummit.com for more information.
About WebCertain
WebCertain Group has its headquarters in the UK with offices in the US, Norway, Poland, India and China. WebCertain Direct Ltd is its search marketing agency, KeywordFluency.com provides multilingual search marketing to other agencies confidentially and WebCertain Translates provides SEO-friendly translation or SEO-Localization. WebCertain also manages the International Search Summit range of conferences which are run in partnership with Search Marketing Expo at all its events.
Media Contact details:
Gemma Birch
Marketing Manager
WebCertain
Tel: 0044 1904 780030
Email: gemma.birch@webcertain.com
Address: Blackthorn House, Northminster Business Park, York, YO26 6QW, UK