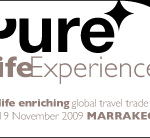 Only the finest are selected. A unique industry leading the path in the high-end travel market place. This private club is clearly defined by the members we have, each being carefully screened and qualified before being accepted. Luxury Adventures will be showcasing their services at the Marrakech Expo, November 15 – 18.
Reviewing membership on an annual basis, PURE Life Experiences invites only senior decision makers to attend from the most forward thinking and experienced high-end travel agencies, tour operators and suppliers around the globe with each member specializing in Experiential Travel.
Luxury Adventures will be giving out ash from the Eyjafjallajokull volcano during the show (booth F20) and promote the best tours in Iceland along with a magical trip to the volcano Eyjafjallajokull with an overnight stay at base camp. View over the black sandy beaches, glaciers and springs. Tours to the hot rivers and springs, erupting Geysir and majestic waterfalls as Gullfoss and Dettifoss.
All this you can find in Marrakech in November 15 – 18 in our booth (F20) at Pure Life Experiences exclusively for leading Private Travel Designers. Operating strictly on a by invitation only basis, PURE Life Experiences is the world's leading networking platform and market place for the Experiential Travel economy.
Each year the carefully selected members of PURE meet behind closed doors in the magical city of Marrakech to conduct business at the highest level, network and exchange the latest ideas and trends in the fast booming Experiential Travel market. A journey away from home, involving a truly memorable and powerful experience (active, cultural, natural, social or spiritual) that will enrich a person's life and improve the way they connect with both loved ones and with the world.
Go to the Luxury Adventures site for more information