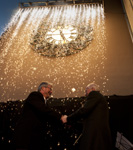 On 20th October 2010, the new Oslo astrological clock was revealed during a ceremony at Karl Johans 3 in central Oslo, Norway. The clock was donated by the CEO of Eiendomsspar AS, Christian Ringnes and features artwork designed by artist couple, Elena Engelsen and Per Ung.
According to a Wikipedia article on the Oslo astrological clock, Mayor Fabian Stang, whom hosted the ceremony, has been quoted as saying, "we are incredibly proud that Oslo now has an astrological clock, especially as it was designed by Elena Engelsen and Per Ung, two of Norway's most renowned artists. The clock is clearly visible and will set a solid mark on the cityscape."
Artists Per Ung and Elena Engelsen have spent over a year collaborating on the clock. Engelsen created the exotic animal characters star, while Ung designed the human characters in the zodiac. The Oslo astrological clock is 346 cm in diameter; with the clock face at 180 cm. Star signs are cast in bronze and are painted. The rings are made of copper and are also painted. The tiles in the dial are coated with 22-carat gold leaf and the total weight of the clock is approx. 1,000 kg. As a representation of the 12 Zodiac signs, 12 of the foremost astrologers in Norway were among the invited guests at the ceremony.
"Through artwork and sculptures visible in the cityscape, we aim to actively contribute in making Oslo a beautiful and pleasant city. Many people know the 'Peacock' fountain at the National Theatre and the Tiger Statue in Oslo Central Station. These are just some of the many features that we have contributed," commented Christian Ringnes during his speech.
For more information about the Oslo astrological clock, visit its Wikipedia page here.