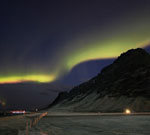 For those looking for an exciting yet cheap holiday, look no further than the 'Deluxe Northern Lights City Break' provided by the Iceland airline, Icelandair.
The Deluxe Northern Lights City Break is perfect for a unique getaway to see one of Mother Nature's greatest spectacles, the Northern Lights. The package deal also allows for some time to explore Iceland's capital city, Reykjavik and relax. Included within the deal are: flights to and from the UK; three nights accommodation at the four-star Hilton Reykjavik Nordica Hotel; access to the Nordica Spa and the Northern Lights tour.
The Northern Lights tour, operated by Reykjavik Excursions, takes place the evening after the day of arrival. Passengers are picked up at their hotel and driven to an area outside of Reykjavik to search for the natural phenomenon. Every Northern Lights tour is different since the guide takes the group to the area where they are most likely to see the lights that day based on the weather. The tour generally lasts three to five hours and makes for an exciting evening out exploring the rugged Icelandic wilderness.
The package deal also includes access to the Nordica Spa, where visitors can relax and indulge themselves, whether it being in the gym or hot tub. In addition, the Nordica has its own restaurant, Vox, with great views over the Reykjavik Harbour and the Imagine Peace Tower.
Icelandair depart from three UK international gateways including, London Gatwick, Glasgow and Manchester.
Visit, http://www.icelandair.co.uk to find out more.