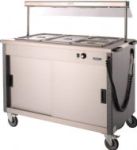 Teknomek, Europe's leading manufacturer of stainless steel furniture, is preparing for the last quarter of the year by holding stock levels of stainless steel equipment ready for purchase and demand.
As the festive period is a busy time for many manufacturers, all too often companies only recognise their lack of increased production requirements at the very last minute. This results in missed business opportunities and customer dissatisfaction. Teknomek prides itself in supplying stainless steel furniture and equipment for companies in need.
In addition, Teknomek has established a high-tech 3D custom design service department specifically to help its customers realise with their requirements, cutting down costs and time delays. Teknomek can take customer data and generate a dedicated product, complete with ideas to improve the finished item. A 3D rendered picture can then be generated on order placement so the customer knows that they are getting the exact design they wanted.
Teknomek is Europe's leading manufacturer of stainless steel furniture and equipment. The company provides high quality and cost-effective stainless steel solutions to industries requiring high levels of hygiene such as food manufacture, pharmaceutical, catering and veterinary.
To view Teknomek products and for more information visit, www.teknomek.co.uk. To get in contact, call +44 (0)1603 788833 or alternatively, email mail@teknomek.co.uk.