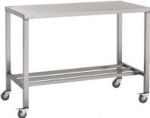 Teknomek, Europe's leading manufacturer of stainless steel furniture and equipment, announced the release of its latest catalogue. The new 108 page catalogue offers customers a chance to view Teknomek's huge range of stocked products to suit the needs of the food manufacturing, pharmaceutical, medical and catering industries.
The catalogue presents some of Teknomek's latest stainless steel furniture designs including shelving, desks, cupboards, dispensers, bowls, ladles, funnels, knifes and trolleys. The catalogue also provides detailed information on Teknomek's unique Bespoke Design Service and Room Design Service.
The catalogue is divided into 5 sections: Stainless Steel Furniture; Washroom Furniture; Hygiene and Janitorial; Utensils and Containers; and Specialist Equipment. The Specialist Equipment section includes: Health and Safety Equipment; Kubik Catering Equipment; Meat Industry Equipment; Cleanroom Equipment; Medical Equipment and Veterinary Equipment.
As Europe's leading manufacturer of catering stainless steel furniture and equipment, Teknomek provides high quality and cost-effective stainless steel solutions to industry hygiene requirements for all sectors such as pharmaceutical, catering and veterinary.
For further information regarding Teknomek's stainless steel services and to view the catalogue online, visit www.teknomek.co.uk. In addition, to order a free hard copy of the catalogue, contact Teknomek on the details below.
Contact:
Tel: +44 (0)1603 788833
Email: mail@teknomek.co.uk