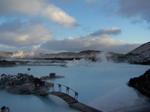 The Iceland travel and tour provider, Netbus is now offering five separate departures to the Blue Lagoon natural spa per day from Reykjavik and three departures a day from the Blue Lagoon to Keflavik International Airport.
The geothermal Blue Lagoon spa is situated in a lava field just a short drive from Iceland's capital city, Reykjavik. The Blue Lagoon is one of the country's most visited attractions with its pools of natural geothermal water rich in minerals that rejuvenate the body and cleanse the skin.
The Blue Lagoon offers spa treatments and massages that actually take place in the lagoon. The geothermal spa also accommodates the Lagoon bar and the Lava Restaurant, built into the lava surroundings.
Jaz Dhillon, a Netbus customer explained, "The Netbus Golden Circle Tour was so much fun, especially within a smaller group. Netbus provided a punctual, informative and enjoyable service, all at prices cheaper than others."
With over 50 years of experience, the Iceland travel provider offers high quality bus trips across Iceland as well as professional guided coach tours and airport transfers. The company has always believed in providing great services at affordable prices and still continues to do so to this day.
For more details on Netbus' Blue Lagoon spa service and to make bookings, check out www.netbus.is.