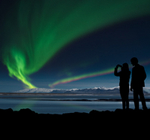 Iceland is known to be one of the greatest places to see the Northern Lights. One reason being the island's perfect location just on the cusp of the Arctic Circle, this is where the Northern Lights appear most frequently. Another being the country's beautiful landscape, making the viewing experience even more special.
With this in mind, Iceland's leading airline, Icelandair has reduced the price of its popular Northern Lights City Break package deal; including flights, accommodation and the Northern Lights tour.
The Northern Lights tour takes place the evening following the day of arrival and is operated by Reykjavik Excursions. Passengers are picked up at their hotel and driven to an area outside of Reykjavik to search for the natural phenomenon. Every tour is different since the leader takes the group to the area where they are most likely to see the lights that day based on weather. The tour generally lasts three to five hours and makes for an exciting evening out exploring the rugged Icelandic wilderness.
Furthermore, due to the exchange rate, Iceland has not been as cheap as it currently is in decades. In fact, Lonely Planet named Iceland one of its Top 10 Value Destinations for 2010.
Icelandair departs from three different international gateways in the UK; Glasgow, London Heath and Manchester.
To see the Northern Lights in Iceland visit, www.icelandair.co.uk and find out more about great offers and flights to Iceland.