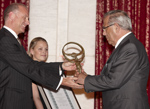 Israeli industrialist, Stef Wertheimer has just been awarded with the 2010 Oslo Business for Peace Award at the Oslo Peace through Trade Summit, held on the 18th October 2010, for his peace lead ethics in business.
Stef Wertheimer is known as one of Israel's most socially conscious businessmen with his business ethics focused on working towards peace. His methodology is simple, ""Be nice to your neighbors and help them to be successful. If you help them to be successful, you have peace."
Wertheimer has recently opened a new industrial park in Nazareth, Israel, with the hope that its economic success with help on the road to peace. Nazareth's industrial park will house local businesses, as well as provide technical education to Israel's youth. His advice to young people searching for their career path is not to look for a job, but to find what they like to do, and then do it and respect it.
This was the first time that an Israeli businessperson has received the Oslo Business for Peace Award, which is considered to be the most prestigious award within business management.
The six other honourees for the Oslo Business for Peace Award included, Venkataramani Srivathshan, the Managing Director of Olam Nigera, Francis Yeoh, the managing director of the YTL Corporation Berhad, Ratan Tata, the present Chairman of the Tata group, Emily Cummins, a product designer and developer, William Rosenzweig, the Managing Director of Physic Ventures and Robert Sendra, Chairman of the Board of Grupo Bimbo.
To find out more about the award and Stef Wertheimer visit, http://www.businessforpeace.no/