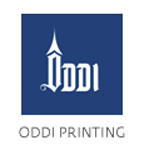 Iceland printing company, Oddi Printing has recently been awarded with the Certificate of Merit during the 2010 Premier Print Awards; the graphic arts industry's most prestigious printing competition.
The Premier Print Awards, hosted by the Printing Industries of America recognises those responsible for the creation and production of outstanding print communications. The judges awarded Oddi after examining thousands of entries from printing and graphic arts firms around the world. Oddi Printing won a Certificate of Merit for the company's art books 'Show', and 'Terence Koh'.
"Each year, the field of entries brings impressive work from some of the best printers in the world. Only a small number of companies receive any award. The craftsmanship and hard work of Oddi enabled them to produce an-award winning piece in the face of some very stiff competition," explained Michael Makin, president and CEO of Printing Industries of America.
"It's an honour to be recognised by the industry as a company that produces top quality, award winning materials," commented Marteinn Jonasson, sales manager at Oddi Printing.
The Premier Print Awards is the printing industry's oldest and largest worldwide graphic arts competition. In its 61st year, the competition recognises those responsible for the creation and production of superior print communications. The event promotes excellence in print and rewards companies and individuals who produce the best in print media.
To find out more regarding Oddi's award-winning printing visit, www.oddi.com/