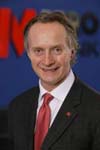 Anthony Thompson has been announced as a key speaker during the second installment of the 'power of difference' talks, hosted by UK branding and design agency, Williams Murray Hamm.
The second 'power of difference' talk will be held on October 13th 2010 at the Bethnal Green Town Hall, a five-star hotel in London. The event will focus on transforming brands and business transformation. Including ideas on how to challenge the status quo and do things differently to achieve extraordinary results.
Anthony Thompson, chairman of Metro Bank, will share how he aims to transform the world of high street banking following the launch of Britain's first new high street bank in 100 years, "Britons are dying for revolution in the banking business, focused on service, and we are here to provide it".
Other key speakers include Camila Batmanghelidjh, founder of Kids Company and Susan Meggitt, Strategy and Planning Director for WMH.
This is set to be the second talk within the series, the first, which occurred on 13th April, was on the subject of challenger brands. The four speakers during the first event included Adam Morgan, the founder of 'The Challenger Project', consultancy eatbigfish, and author of 'The Pirate Inside'. Tim Wright, the commercial and marketing director of King of Shaves, a brand whose first intent is to become the Number 1 Challenger brand to Procter and Gamble's Gillette. Neil Christie, managing director of advertising agency Wieden & Kennedy, whose founding principles of stupidity and chaos have made them one of the world's most admired creative businesses. Richard Williams, founder of Williams Murray Hamm, the leading design agency with a formidable reputation for delivering a significant ROI for entrepreneur-led brands.
To register for the next talk and to view previous talks, visit http://www.differencetalks.com/. Alternatively, contact Karla Morales at karlam@creatingdifference.com for more details.