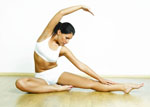 For the treatment and prevention of medical problems, is proud to announce the opening of One, its new Yoga Centre in Shoreditch, London. Launching in September 2010, One is a unique Yoga Therapy Centre featuring some of the most renown authorities in this field.
Everyone from stressed bankers to women trying to conceive is catching on to the benefits of yoga therapy, a fusion of deep breathing, invigorating postures and self-help. This version of the ancient Indian practice is gaining credence within the medical community as a complementary therapy for helping with a range of issues, such as depression and anxiety, through to fertility, menopause and asthma.
Robin Monro, director of the Yoga Biomedical Trust, believes that yoga therapy is one of the few treatments that genuinely offers a holistic cure: "If you are working on stress for example, and focus on the body alone, you're not addressing the thought patterns that cause it. And if you deal only with the mental side of things, you're ignoring the biochemical and physiological changes that emotional trauma can bring. Yoga therapy addresses both aspects of the problem."
One will host an Open Day for the public on Saturday 25th September, offering free taster sessions and information on all its courses. Booking via the website is essential.
With this in mind, One offers a range of courses including:
Yoga for Conception – Effortless exercises acclaimed for their gentle efficacy, which have been specially designed for promoting pelvic awareness and relaxation towards conception.
Stress – Yoga brings us back to where we should be by working directly on the nervous system. When we calm down we are also far more able to face our thoughts, fears and obstacles.
Back Pain – Specialised yoga therapy can help most types of low back pain by distinguishing between different types and applying appropriate yoga practices and precautions.
To support Breast Cancer Awareness Month in October, One will offer classes on Yoga for Breast Health, also a specific Yoga for Breast Cancer restorative course.
Further information on Yoga Biomedical Trust and One's key therapists:
YOGA BIOMEDICAL TRUST
Yoga Biomedical Trust, a registered charity, was founded 27 years ago to promote and develop scientific research into yoga and yoga therapy, since critical scientific research is necessary to gain acceptance of yoga and yoga therapy and to explore how they can complement modern medicine. www.yogatherapy.org
YBT are honoured to have Ravi Shankar and Sir Richard Branson as its Patrons.
DR ROBIN MONRO
Dr Robin Monro, the Director of the Yoga Biomedical Trust is a Cambridge-trained biochemist, who worked at the cutting edge of research into the mechanism of protein biosynthesis in the 1960s. Further research led him to coin the term 'complementary medicine', and focus specifically on yoga therapy to explore how it can complement modern medicine. In 1983, Robin established the Yoga Biomedical Trust, to facilitate the integrated growth of yoga therapy in the UK. A leader in its field, both nationally and internationally, the Trust provides yoga therapy to the public and carries out yoga therapy research.
FRANCOISE BARBIRA-FREEDMAN
Francoise Babira-Freedman is an internationally-recognised pioneer in antenatal and postnatal yoga, and the use of yoga as a therapy for women's conditions. Founder of the charity Birthlight, Francoise Barbira-Freedman is a medical anthropologist at the University of Cambridge, where she does research and teaches as an affiliated lecturer in the Department of Social Anthropology. After spending long periods of fieldwork in Peruvian Amazonia, she was inspired to share the gentle approach to parenting of her Amazonian hosts among friends in the UK. As a trained yoga teacher and therapist, Francoise used the idiom of yoga to create an original programme of movements and nurturing relaxation for mothers to be and new mothers with their babies. www.birthlight.com