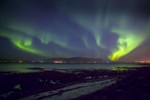 This winter, Icelandtotal is offering a range of unique Northern Lights package deals for foreign travellers, ideal for a special end of year holiday.
The chances of seeing the Northern Lights in Iceland are particularly good this coming winter. This is due to the intensity of the Aurora Borealis being affected by an 11-year solar cycle, for which the cycle is reaching its peak between 2011 and 2013 within the Northern Hemisphere.
As a midway between Europe and the U.S., direct flight routes to Iceland are available from both continents. Additionally, Iceland's geographical location makes for the perfect viewing destination due to it being just outside of the Arctic Circle.
Icelandtotal.com is an online travel agency offering a large selection of Iceland vacations, tours, accommodation and car rentals. The site also offers one of the most complete travel guides about Iceland, giving detailed information on all of the most popular attractions, towns and museums.
Icelandtotal.com offers several Northern Lights packages, ranging from 3-6 days.
To find out more, visit www.icelandtotal.com