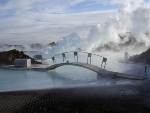 Blue Lagoon is a geothermal spa situated in a lava field on the Reykjanes Peninsula in south west Iceland. With it being one of the country's most visited attractions, just a short drive from the capital city Reykjavik, Icelandair is now offering city break package deals with free day trips to experience the revitalising Blue Lagoon.
Icelandair's city break offer includes return economy class flights from either London, Manchester or Glasgow, as well as 3 nights accommodation, Blue Lagoon transfer and entrance fee, plus breakfast at selected hotels.
Blue Lagoon offers spa treatments and massages that actually take place in the lagoon, in the open air. The spa area is spacious and more than one treatment can take place simultaneously, making it possible for couples and friends to have a treatment at the same time.
The geothermal seawater that floods the lava formation is piped directly from its original source to the Blue Lagoon. Guests then enjoy the relaxing 40 °C temperatures and the beneficial active ingredients: minerals, silica and algae and their positive effects on the skin.
Blue Lagoon also houses the magnificent Lava Restaurant, which is built into the lava surroundings. The restaurant offers a delicious a la carte menu as well as a great selection for kids, making it ideal for all the family to enjoy whilst admiring the breathtaking surroundings.
Further details on Blue Lagoon City Break packages with Icelandair can be found at www.icelandair.co.uk