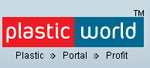 Recently launched plastic B2B portal, Plastic World, has announced new advanced branding services – include SMS Marketing, E-Mail Marketing & Banner Marketing. Within short time of launching this plastic portal (B2B) becomes the professional business platform for all who are involved in to import-export trade, Indian exporters, manufacturers and suppliers of plastics and allied industry.
At Plastic World – Plastic Marketplace, business houses are categorized according to their product/services; however, It is fast as well as easy to use and possess the ability to cope with high level of traffic so there is no limit to the potential success for your advertising.
By intending worldwide branding in mind Plastic World launched SMS Marketing, E-Mail Marketing & Banner Marketing.
SMS Marketing:
Through our SMS Marketing, your text message reaches the target market within seven seconds and you will receive immediate response for your announcement, offer or message. It helps you to build new relationships. Regular text messages will keep you in contact with existing customers which offers maintaining of brand loyalty.
Mobile users can get registered with advertising companies and in turn the advertisers will contact them. The advertisers send SMS depend on the company category, state, city, occupation as well as several other parameters. After the advertisers acquire SMS credit, the SMS text campaign is run. However, paid users will be receiving regular SMS from the advertisers.
E-Mail Marketing:
Through our E-Mail Marketing you can send business e-mails to the business houses listed with us in bulk. We offer an effective e-mail promotion campaign which reaches focused customers related to your business and generates maximum business response for you. Business categories of our email marketing include Manufacturer Exporters, Merchant Exporters, Service Providers and Importers; however, we have more than 2000 product categories under these business categories.
Our E-Mail Marketing Service Provides:
– Well managed and updated database of more than 70,000 satisfied business houses
– Over 100,000 business queries generated per month
Banner Marketing:
Our banner advertisement gives you an edge over your competitors, by catching the attention of your potential customers, through attractive banners. Our objective is to make each and every business house get the advantage of being associated with exporters.
– We can design a business & products theme based Banner for You
– Maximize your website traffic & increase no. of unique visitors that are related to your business
– Generate thousand business queries per month & earn more Profits
– Attract right visitors to your site and get a fruitful business
With our banner marketing you can select from three different sizes of banners for banner marketing; however, availability of desired location will depends on the size of banner selected by you. Given Banner sizes are in accordance to the space availability on the respective page.
For more information regarding the service and details about the Plastic World please visit: http://www.plastic-world.in