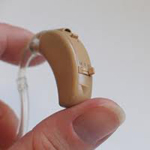 Two Leading Local Businesses are backing Gidea Park and Romford Cricket Club in sponsorship deals worth several thousands of pounds. Leading Upminster based James Read Opticians and Click Hearing the independent supplier of Digital hearing aids technologies with branches across the South East have signed deals with the Club which will see both companies supporting the club through to 2013 .
Benjamin Mann Founder of Click Hearing said: "Sponsoring Gidea Park and Romford CC enables us to support the development of the sport in the community and we are looking forward to a long and productive relationship with the club.
The Upminster Opticians Managing Director Nick Read, said: "We are delighted and proud to have formed an association with Gidea Park and Romford CC. The sponsorship is an excellent way for us to raise our company profile and to make a constructive contribution to the local community."
Andy Jenner Vice Chairman of GPRCC (centre) pictured with Benjamin Mann (left) and Nick Read (right).
Greg Churchill, Chairman of Gidea Park and Romford CC said he was delighted with the new 'signings.' He said: "It's fantastic news for us to have such enthusiastic sponsors backing the club. We're looking forward to productive working relationships with Click Hearing and James Read Opticians and their support will have a significant impact on a number of ongoing club initiatives."
CLICK HEARING Based in London and the South East, Click Hearing is a leading independent supplier of hearing aids who blend elements of the best-practice of NHS audiology protocols with the high quality hearing instruments only available privately. Their friendly service is open to all that may make an enquiry or impartial advice together with our brilliant after care service.