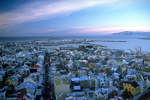 As the Eyjafjallajokull volcano has now ceased, Icelandair is offering its special Reykjavik City Breaks package deal for UK travellers to experience Iceland's bursting activities and cultural events.
Whether you're looking for entertainment, excitement, culture or relaxation, the beautiful city of Reykjavik has everything you will ever need. With a vast selection of restaurants and bars, Reykjavik serves up thrilling nightlife and mouth-watering cuisine. The city also holds numerous attractions such as Hallgrimskirkja, the Nordic House and Perlan, which are all within a short bus journey of each other.
Icelandair's Reykjavik City Breaks includes flights, accommodation in selected top-class hotels all within walking distance to Reykjavik's best tour providers; Icelandair recommends experiencing a Golden Circle tour.
During a Golden Circle tour you will be taken to the golden waterfall, Gullfoss, the world famous geothermal area of Geysir and Thingvellir National Park, where Europe meets America at the Continental Divide – an adventure not to be missed.
For further information about Icelandair and to book flights from Glasgow, London Heathrow or Manchester visit www.icelandair.co.uk