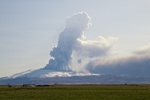 Iceland volcano tours to the Eyjafjallajokull eruption are on the increase as tour operators try to keep up with the demand from tourists wanting to see the volcano. Numerous day trips to see the Iceland volcano eruption are on offer and Icelandtotal.com, Iceland's One Stop Travel Shop provide a broad selection of volcano tours to supply for specific needs.
Currently around 10-15 super Jeeps and 2-3 coaches, which is the equivalent of 200 people, drive to the volcano eruption site every night. With the influx of travellers to Iceland and the tourist season soon reaching its peak, this figure is likely to multiply departure times and more tours will consequently take place.
Vignir Gudjonsson, manager of Icelandtotal.com explained, "The volcano tours have proved to be a major hit and contradictory to some recent reports, the volcano at Eyjafjallajokull is of no threat to visitors, as long as they are accompanied by professional guides."
There is no sign of the volcano eruption coming to an end and it is impossible to tell when the eruption will stop; it could be tomorrow, it could be in a years' time. However, as long as the volcano is erupting, tour operators in the Iceland travel industry will continue to offer volcano tours.
Gudjonsson added, "Travellers in Iceland realise that this is a once in a lifetime opportunity to witness an active volcano. You can't compare this experience with anything else and people know that they are witnessing something extraordinary."
For more details about tours in Iceland and visiting the Eyjafjallajokull eruption site visit www.icelandtotal.com
Photographer: Anders Peter Amsnæs/www.imagix.dk