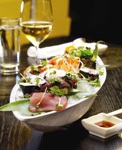 Discount restaurants in Iceland have been on the increase over the past few years despite the recent economical problems within the country. Iceland has always depended on its fresh fish supplies in means for commerce, especially today with the restaurant industry. One of Iceland's most popular discount fresh fish restaurants is Domo, located in downtown Reykjavik.
Since Domo opening its doors in 2006, the restaurant has been in demand with both locals and food critics for its culinary expertise and relaxing dinning environment. Not only has Domo been crowned as the "kitchen without boundaries", it was also ranked in online magazine foodandwine.com's 'Go List' as one of the top European restaurants to dine during 2008.
Domo is renowned for its fresh fish and sushi alongside its Asian/French inspired a la carte menu, as well as a great selection of wines, sake and an extensive whiskey collection.
Domo currently offers an affordable lunch menu with salmon, sushi, soup, fresh bread and salad at discount prices.
For further information on discount restaurants in Iceland and Domo visit www.domo.is