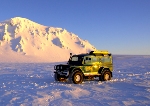 The Icelandic Association for Search and Rescue has launched a safety website dedicated to providing tourists with information for safe travel in Iceland.
The website, www.safetravel.is, is featured in six different languages; English, Spanish, Italian, French, German and Icelandic. It provides detailed information covering every situation or activity that one might encounter whilst on holiday in Iceland, this includes what to look out for and also how to react in case of an actual real emergency.
Safety information sections on the website include driving in Iceland, hiking, biking, horseback riding, climbing, sailing, diving and swimming, both in geothermal pools and also in the sea. The website also covers natural disasters that could occur in the Icelandic countryside and what to do, such as avalanches, landslides, earthquakes, volcanic eruptions and also the dangers surrounding geyser areas.
First aid advice for every possible situation, with detailed imagery and step by step instructions is also available. The site lists Icelandic emergency service contact numbers and telecommunication information, what to do in a emergency rescue situation, and a detailed map of Iceland.
For further details and information on safe travel in Iceland log on to www.safetravel.is