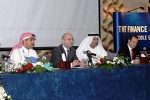 Chief Executives from leading telecoms operators will meet to debate growth opportunities in the sector at the TMT Finance & Investment Middle East in Doha on April 26-27. Leaders from Qtel, Etisalat, Saudi Telecom, Telecom Egypt, Vodafone, Tata Communications and other operators will hold the debate at the event.
The Telecom Leadership round table will be chaired by Karim Sabbagh, Global Practice Leader for Telecoms, at management consultancy Booz & Company. The roundtable opens the annual conference and the popular debate traditionally sets the corporate and investment agenda for the year ahead, by highlighting key strategy and opportunities in international and local markets.
Speakers this year include HE Sheikh Abdulla bin Mohammed bin Saud Al-Thani, Chairman, Qtel, Akil Beshir, Chairman and CEO, Telecom Egypt; Ali Alahmed, Chief Strategy Officer, Etisalat; Vinod Kumar, President & COO, Tata Communications; Ghassan Hasbani, CEO, STC International; Grahame Maher, CEO, Vodafone Qatar; and Dr Hessa Al Jaber, Secretary General, ictQatar; with more announcements on the way.
2010 is pivotal for telecom operators emerging from recessionary conditions and seeking further growth. Key themes for debate for the Telecom Leadership Round Table this year include;
• Will M&A see a revival in 2010 and beyond?
• How will strategic investments be funded in the post-recession era?
• What are the areas of innovation that operators could pursue?
• How can operators effectively transform their cost structures and release cash to fuel investments?
• How can operators integrate their international operations and realize synergies?
"Four imperatives will come into even greater focus in 2010 for operators: revive growth momentum, accelerate innovation in services, harvest broadband potential and transform cost structures," commented Karim Sabbagh. "Operators will need to develop the right capabilities to address these, if they are to continue growing in all their markets."
TMT Finance & Investment Middle East 2010 is supported again this year by Qtel as Official Patron, as well as by Booz&Co as Conference Partner, Clifford Chance as M&A Advisers Panel Sponsor, PricewaterhouseCoopers, Qualcomm and Denton Wilde Sapte as Silver Sponsors, American Tower as Bronze Sponsor and Intel as Industry Sponsor.
The Conference and Awards Ceremony, now in its fourth year, takes place at the Sharq Village Resort and Spa in Doha, Qatar, and is the largest annual gathering of telecom and technology executives, investors and advisers in the region. It features high level debate which has significant influence on strategic decision making and investment in technology for the year ahead.
2010 reflects the strategic challenges for major telecommunication operators in the region, and the event programme reflects this with sessions focused on Mergers and Acquisitions, Wireless Technology, Raising Finance, Africa, Asia, Mobile Broadband, Cloud Computing, Web 2.0, Mobile Payments and M-Health.
For further information and booking visit www.tmtfinance.com/me/register
Contact: enquiries@tmtfinance.com
Follow on Twitter: http://twitter.com/TMTFinance/