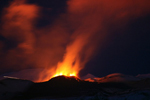 Visitors travelling with Iceland Total experienced the most powerful Northern Lights show of the past three years whilst on volcano tours near the eruption site at the Eyjafjallajokull glacier. The Northern lights might continue to be visible in Iceland for the next couple of weeks, but the visibility is always subject to the right circumstances.
The fortunate volcano seeking travellers at the Fimmvorduhals eruption site in Iceland, caught some incredible photographic images capturing the power of mother nature.
"I have never seen anything like this. I thought I was blessed to have an opportunity to see an active volcano in action but this incredible Northern Lights display was an unsuspected bonus. Unbelievable experience," explained an English visitor travelling on the Volcano Jeep tour through Icelandtotal.com.
Iceland is certainly one of the best places in the world to view the Northern Lights, due to the country's location on the cusp of the Arctic Circle. The dancing lights of the Aurora mixed with the fiery spurts of volcanic lava proves to be an epic sight.
As a leading one-stop-shop for travel in Iceland, Icelandtotal.com offers several incredible Northern Lights and volcano tours.
To find out more about Northern Lights and volcano tours in Iceland visit www.icelandtotal.com.