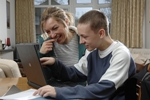 A new report into parents' involvement in school work at home reveals the homework problems that leave parents frustrated and children confused. The education report shows that eighty-three percent of parents struggle to support their child with homework. Over half of children involved in the study said they are confused by their parents when they try to help with school work, whilst eighty-one percent of parents welcome guidance on how to support their child's learning better.
The comprehensive study commissioned by Becta, the government agency for technology in education, involving 2000 parents and 2000 nine to thirteen year olds was released earlier this week. The report highlighted the apparent confusion, frustration and embarrassment that both parents and children experience in regards to homework. A large majority of parents often struggle to support their child's learning outside the classroom, this then in turn leaves them feeling frustrated and their child unsupported.
The Becta "I'm stuck – can you help me?" report shows parents are keen to become more involved in their child's education with many left looking for more guidance and advice on how best to support their children's learning outside of the classroom. Becta encourages more schools to use technology effectively to help parents support their child's learning at home through the Next Generation Learning campaign.
"Becta believes that when used effectively both in schools and at home, technology can be extremely beneficial to a child's education. Schools benefit from proactive involvement from parents and if children feel they are getting the right support from schools and families, this has a positive effect on their grades. Many schools are already using technology in innovative yet practical ways to advise parents on how best to support children's education at home and are reaping the rewards as children's performance improves at school," commented Niel McLean, Executive Director of Becta.
Easily available and simple to use technologies such as school websites and learning platforms can help parents and create homework solutions by providing parents with information allowing them to keep up-to-date with their child's school and learning program. However eighty-four percent of parents revealed that currently their child's school offered little or no resource to help support their child's out of school learning.
Becta is campaigning and promoting the use of technology in schools by demonstrating the benefits involved for both schools, parents and pupils. School's can engage better with parents using technology, helping them to effectively support their child's learning at home and consequently support the work of teachers in school.
To download and read the Becta education report in full and to learn more about the Extended Learning campaign visit www.nextgenerationlearning.org.uk/extendinglearning