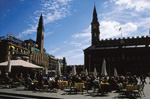 Leading business tourism organisers Hotels in Copenhagen, provide excellent company incentives to Denmark, the number one destination to conduct business, as stated by the Economist Intelligence Unit.
Denmark scored highly across a whole range of categories within different business environment rankings. These rankings are assessed on the relative attractiveness of a certain country as an investment location. The Economist Intelligence Unit inspected the country's pro-business strengths within ten separate categories, especially within market flexibility, fiscal policies and the quality of public services.
As Denmark is a top business destination, Hotels in Copenhagen provide companies of all sizes with the reliability and luxury to ensure a successful business trip, alongside company incentives and programs. The services offered by Hotels in Copenhagen range from meeting locations, arranging transportation, hotel accommodation, and catering facilities.
Hotels in Copenhagen also offer excellent accommodation for both tourists and business travellers seeking inexpensive, yet well-appointed hotels in Denmark's lively capital city.
To find out in more detail about business tourism in Denmark and luxury hotels in Copenhagen visit www.hotelsincopenhagen.dk