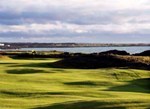 Would you like to play golf in the midnight sun of Iceland for free? A golfing holiday in Iceland can prove to be a unique and wonderful experience, and because of the long summer nights you can spend 24 hours a day on the course. With the top Icelandic hotel, Grand Hotel Reykjavik, you can play at the 18-hole Keilir Golf Club for free when you stay more than three nights.
Playing golf in Iceland is a unique and enjoyable experience for golfers of all abilities, especially at the Keilir Golf Club, a 18-hole club only 10km southwest of Reykjavik city centre, the world's northernmost capital area.
The Keilir golf course is often featured in the top 100 best courses within Europe, focusing mainly on skill and accuracy rather than power and distance. The golf course, Keilir, was originally built on old farmland and is surrounded by incredible scenic lava fields.
Many of the holes are played towards the Atlantic Ocean, giving you a magnificent view of the glacier Snaefellsjokull, where Jules Verne's 'Journey to the Centre of the Earth' took place.
With Grand Hotel Reykjavik, you can choose from any one of its luxury hotel rooms to be eligible for a free round of golf at Keilir. The Hotel in Reykjavik offers 314 comfortable and spacious rooms equipped with first-class amenities.
Come to Iceland and try the exotic golfing adventure in the island in the North Atlantic. Remember the golfing season in Iceland is only between May and October.
For more information on golfing holidays in Iceland and hotels in Reykjavik visit www.grand.is