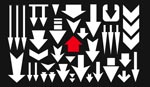 On April 13th, four leading experts on Challenger Brands will come together to share their knowledge and insight into packaging and design innovation in front of a high-profile marketing audience from Virgin Atlantic, the BBC, O2, Britvic, and Cadburys.
The event, 'Challenger Brands. An evening with Williams Murray Hamm', will be taking place at The Covent Garden Hotel, London, providing a unique opportunity for advertisers and designers to discuss brand innovation and the future of marketing within an intimate setting.
Challenger Brands has been one of the most interesting phenomena within recent marketing history, with notable stories from small brands that have adopted this unique behaviour and thrived against large, well-known brands. Some of these success stories come from the four speaks scheduled to talk at the event.
The four speakers of Challenger Brands will include Adam Morgan, the founder of 'The Challenger Project', consultancy eatbighfish, and author of 'The Pirate Inside'. Tim Wright, the commercial and marketing director of King of Shaves, a brand whose first intent is to become the Number 1 Challenger brand to Procter and Gamble's Gillette. Neil Christie, managing director of advertising agency Wieden & Kennedy, whose founding principles of stupidity and chaos have made them one of the world's most admired creative businesses. Richard Williams, founder of Williams Murray Hamm, the leading design agency with a formidable reputation for delivering a significant ROI for entrepreneur-led brands.
'Challenger brands. An evening with Williams Murray Hamm' will be held on Tuesday April 13th, between 6.30pm-10.30pm, at The Covent Garden Hotel, 10 Monmouth Street, London, WC2H 9HB.
Due to the popularity of the event and restricted spaces, invitations will be limited to 50. There are a few places left so if you wish to attend you may email karlam@creatingdifference.com requesting a place. Williams Murray Hamm advise to RSVP as soon as possible.
For further information regarding the event contact Karla Morales at karlam@creatingdifference.com. To view Williams Murray Hamm's award-winning packaging and design visit www.creatingdifference.com/