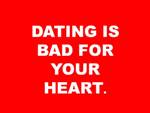 The perfect Valentine's gift for the freshly – or terminally – single
As the rallying cry of 'I hate Valentine's Day' gets louder, singles now have a book to comfort them through February 14 and beyond: The Dating Detox by Gemma Burgess.
Compared to High Fidelity and Bridget Jones by Vanity Fair (VF Daily, January 2010), The Dating Detox is the ultimate anti-romantic gift for any singleton this Valentine's Day.
The Dating Detox is an anti-romantic comedy that follows one simple idea – if you can't date anyone nice, don't date anyone at all. It's also the first chicklit book featuring a heroine from the post-recession, post-Bridget Jones, post-Carrie Bradshaw generation of singles.
The plot: after being dumped for the sixth time in a row, romantically-challenged heroine Sass declares a dating sabbatical. No men, no break-ups, no problem. Should she risk her newly-found stability in singledom for what could be the real deal? Or will she choose the rules, rather than risk having her heart broken again?
Plus, the free The Dating Detox postcard set offers dating-related health warnings to singletons, including 'Dating is bad for your heart', 'Dating seriously harms you and others around you', 'How many units of men do you consume a week?' and 'Men. So high in carbs'.
See the full set click here or to find out more about The Dating Detox and the author visit www.gemmaburgess.com
About the author
Gemma Burgess moved to London at the age of 22. She started working as an advertising copywriter, and applied herself more wholeheartedly to having a good time. Eight years later she decided to distil some of her experiences into The Dating Detox: the anti-romantic comedy for women with confidence, wit and style but absolutely no clue whatsoever how to know the real thing when they see it. (Love, that is.) She still lives in London. And is still having a good time.