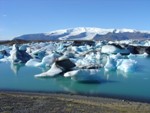 Vatnajokull, Europe's biggest glacier and Jokulsarlon, the glacial lagoon situated at the bottom full of icebergs, some of the most extraordinarily unique landscapes in the world. Hundreds of thousands of people visit the area each year to see the stunning beauty of the Vatnajokull region.
There are numerous exciting day trips to and around Jokulsarlon, a huge glacial lake situated at the foot of Europe's largest glacier, Vatnajokull. The experienced Icelandic tour company, Vatnajokull Travel, offers unique guided tours in and around the Vatnajokull region of south east Iceland. The all year round trips and tours provide the perfect addition to any Iceland experience.
A popular tour amoungst tourists is the Voyage to Vatnajokull  which takes you from the capital city, Reykjavík, to Vatnajokull and jokulsarlon all within a day tour. The fun packed, exhilarating day trip offers the very best of Vatnajokull. Cruise between the enormous icebergs in the glacial lagoon and then race across the glacier on skidoos or super jeeps.
The type of tours range depending on the time of year but the most popular of them all being the 'Vatnajokull roundtrip . This fun tour takes you to see all the major sights in and around the mighty Vatnajokull. A boat tour in the glacial lake as well as snowmobile tours on the glacier or a visit to Iceland's black sandy beaches in Sudurfjorur, where you can enjoy the sites on an ATV (quad bike).
Further details on the Vatnajokull region and information about tours and day trips can be found at www.vatnajokull.is