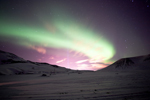 This winter, view the magic of the Northern Lights at the Best Value Travel Destination for 2010 with Icelandair's City Break.
The Northern Lights are at their peak activity levels through the end of March in Iceland, and to celebrate this natural spectacle Icelandair is pleased to announce the affordable Northern Lights City Break for UK travellers.
Operated by Reykjavik Excursions, the Northern Lights tour takes place the following evening after the day of arrival. Passengers are picked up at their hotel and driven away from the city lights of Reykjavik to search for the unspoiled phenomenon. Every tour is unique, with each group being taken to a different area based on the probability of viewing the Aurora. The tour generally lasts for around three hours, promising an exciting evening exploring the Icelandic wilderness.
In addition to the tour, the Northern Lights City Break offers travellers free time to enjoy exploring Reykjavik, whether relaxing at the Blue Lagoon or enjoying one of Iceland's many winter activities. Also, Iceland has been named by Lonely Planet as one of the Top 10 Value Travel Destinations for 2010 – due to the decline of the Icelandic Krona, now is the best time to travel to the 'land of fire and ice'.
This holiday package includes flights from London Heathrow, Manchester or Glasgow, three nights accommodation and the Northern Lights Tour. The offer must be booked by 31st January and is available through 31st March 2010.
For more information or to book online visit www.icelandair.co.uk.