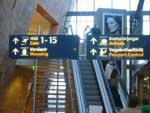 The Airport Council International has voted Keflavik International Airport, as the Best in Europe for its customer satisfaction and duty free shopping.
According to the September 2009 Airports Service Quality survey conducted by the ACI, Keflavik International Airport, Iceland, has been appointed as the best airport in Europe for the first nine months of last year.
This prestigious survey is the world's leading airport customer satisfaction standard, with around 130 airports taking part. Specified within the passenger survey, travellers described Keflavik International Airport as comforting, cosy and with a friendly atmosphere.
Passengers also indicated their gratification with the airport's huge range of duty free stores. The Keflavik shopping area posses in total eighteen retailers, selling a range of items from electrical goods to high-street clothing, all at reduced prices. Confectionary items, liquor, cosmetics and tobacco are also widely available. Furthermore, due to the favourable rate of currency exchange, Iceland is becoming more and more cheaper for travellers to visit.
Titled as the central hub for travel within the Atlantic, Keflavik International Airport is the prime stopover destination for passengers across the globe. Over twenty destinations throughout North America, Continental Europe, Scandinavia and the UK can all be accessed by connecting flights from Icelandair.
For the latest news and information regarding Keflavik International Airport visit www.kefairport.is