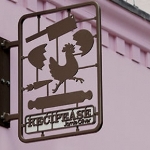 The objective of the Benchmark Awards is to set a standard in the recognition of excellence in brand communications. They differ subtly, but significantly, from traditional awards schemes. In terms of scope, the entry Categories represent market sectors rather than design applications.
The 2009 Benchmark Awards took place at the Grosvenor House Hotel on Tuesday 1st December. On the night Williams Murray Hamm was awarded first place in the Retail category for its design of the Recipease food kits for Jamie Oliver Enterprises.
Entrants are judged on the consistency of the brand message (within the programme or across the campaign), overall creativity and innovation achieved within the constraints of the brand guidelines. The judges also consider the appropriateness within the relevant market sector.
Recipease is an original food outlet developed by Jamie Oliver. Williams Murray Hamm created the new retail concept for 'food explorers', targeting customers who get excited about preparing and learning to cook food. To communicate the sense of meal assembly, the consultancy devised the idea of an Airfix-style food kit, and used illustrations to create a witty language that talks about good food and how easy it is to cook.
For more information on Williams Murray Hamm designs log on to www.creatingdifference.com