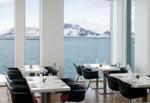 As the final shopping weekend before Christmas is soon approaching, the pressure of gift buying becomes more stressful. Jet setters are now combining Christmas shopping with relaxing holiday breaks in order to reduce this tension. Iceland, due to its festive setting and wide array of shops, is fast becoming the perfect location.
CenterHotels have announced an incredible package to incorporate your Christmas shopping with an exciting, yet cheap holiday break.
Make the northernmost capital of the world, Reykjavik, your home for two nights as your explore the city's unique landscape and retail bargains. Start your shopping spree down Laugavgur, Reykjavik's main shopping street, and experience all this wonderful city has to offer.
Throughout your holiday you can enjoy a complimentary drink at either the Hotel Thingholt or the Plaza Bar, then indulge yourself at Hotel Arnahvoll's spa before toping the night off at the impressive Panorama Restaurant. Enjoy a delicious three-course meal whilst taking in the breath-taking views of mount Esja's snow covered mountains. This package is just one of four amazing offers across all of CenterHotels' great locations.
The family owned CenterHotels provide five luxurious hotels, ranging from three to four stars, within central Reykjavik.
To find out more about the various package deals at CenterHotels visit www.centerhotels.com