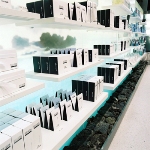 Iceland's International Airport has been named as one of only few airports throughout Europe to sell duty-free products to both arriving and departing passengers this Christmas.
Keflavik International Airport, located forty minutes from Reykjavik, is Iceland's main airport, flying to over forty destinations. However, what makes this airport unique is it's vast shopping area, offering both arriving and departing passengers' access to duty-free products.
The Keflavik airport shopping area hosts eighteen various duty free shops, selling both well-known products and Icelandic designs, all ideal for Christmas. The products in the Keflavik Duty Free stores are very competitive in price to other European airports, and prices are up to 50 percent lower than in Reykjavík retail stores. When passengers need to make an Atlantic stopover, there is an advantage to stop and shop at Keflavik International Airport.
Passengers waiting for their flights now have the special opportunity to relax and enjoy various massages and spa treatments at the Blue Lagoon store. Also, a new seafood and health bar, opened in the departure lounge on level two, offers incredible Icelandic fish before your flight.
For more information about Keflavik International Airport and its vast shopping area visit www.kefairport.com