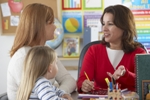 According to a recent report released by Becta, forty-eight percent of teachers believe that while parents are a great source of support, they dont always know the best ways to get involved with their child's education. Forty percent of parents say they think technology could help, however they don't fully understand the ways in which they can use it. Consequently, schools need to review how they currently communicate different types of information with parents by consulting with the parents themselves and establishing whether their current form of communication is suitable.
Becta encourages schools and teachers to ask parents how they would like to receive information about: the school calendar, topics being taught in class, how topics are being taught, homework, their child's progress and achievements, their child's special educational needs, attendance and behaviour.
The report reveals that the vast majority (89 percent) of parents say technology could play a more powerful role in their child's education if they better understood how to use it. Schools and teachers need to talk to pupil's parents early on and consider what the parents will want to see. Schools need to ask the questions, what technology do you use most regularly? what technology do you have access to at home? how comfortable are you, or your child, with using the technology you have?
With over a third (37 percent) of teachers would like to advice parents on how they can communicate more effectively. Schools need to offer training to help parents use these technologies with or without their child. Then the school can establish what is best for their pupils and pupil's parents.
Schools should make information available for parents by providing them log in systems with secure access such as Learning Platforms or access through a portal to MIS (Management Information System) data. Email and text messaging could also be used by schools to contact and keep parents informed on sickness, school closure and other information that may be important to inform a parent about as soon as possible.
Publically accessible technology such as school websites, downloadable newsletters or a subscription service can provide updated information about school life and events, like school term times and parent consultation evenings.
Becta is the government agency aiming to advertise and implement the productive and innovative use of technology throughout the teaching and learning process. The Schools & Parents: A New Partnership report is part of the 'Next Generation Learning' campaign, which encourages the move towards online reporting by using an integrated range of technologies helping parents engage with their child's learning.
To view the Becta Schools & Parents: A New Partnership report or for more details about Becta and the 'Next Generation Learning' campaign visit www.nextgenerationlearning.org.uk
For more information, please contact:
Sophie Jackson 0207 025 6412 / Sophie.jackson@redconsultancy.com
Catherine Sharrott 0207 025 6589 / Catherine.Sharrott@redconsultancy.com
Kate Cox 02476 797146 / Kate.Cox@becta.org.uk