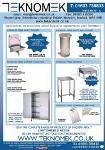 Today, a vast number of B2B enquires being on the Internet; businesses are now searching for new marketing techniques to attract customer attention. Search engine optimisation (SEO), an invaluable Internet marketing tool, helps to increase the amount of traffic for an online retailer or website
Teknomek are one of the first small businesses to welcome the power of the Internet. The British pharmaceutical furniture producers have increased the number of traffic by nearly a quarter since the launch of the new website in September. The company engaged the services of Icelandic based search engine optimisation agency, Nordic eMarketing, to help gain this increased online presence.
Managing Director at Teknomek, Tom Worth, had this to say:
"Nordic came on board after we had engaged a local web designer to build a new website for us. Their initial brief was to develop our web presence without touching the basic web design. However, we pretty soon found out that unless the platform technology is capable of supporting SEO, the results can be disappointing. Simply by changing the way some products were organised, we destroyed the work Nordic had done for us and our traffic plummeted. We were faced with a choice: stick with the current supplier and make the best of bad job, or find a new web platform that would really drive our web presence."
Ultimately, Teknomek decided to replace its newly developed online platform for a Content Management System (CMS) that could easier sustain the SEO program. "In order to minimise the disruption to our customers, we left the basic look the same, but underneath was a state of the art CMS that gave us all the flexibility we needed." Lucy Cook, head of marketing at Teknomek, stated.
This example of innovative Search Engine Optimisation can be viewed at www.teknomek.co.uk/