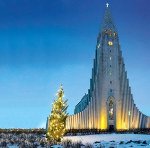 According to a recent survey by MORI, four out of five adults consider the Christmas period to be stressful. So why not be the one of five who relax during this joyful time of year and discover Iceland's unique traditions.
For more than half a century, the City of Oslo, Norway, has presented Reykjavik with a beautiful Christmas tree, placed in Austurvollur Square. Every year, families gather together to commemorate the spirit of Christmas by lighting the 'Oslo tree' on November 29th – discover the local celebrations and partake in some traditional Icelandic singing.
Fancy some early stress free Christmas shopping? Perlan – the large dome building sitting on top of Oskjuhlid hill, over looking Reykjavik – hosts an all year round Christmas Shop supplying a selection of handcrafted gifts, Christmas tree decorations and the local favourite Icelandic folktale 'Yule Lad' statues, based on the drawings by Brain Pilkington. Furthermore, The Little Christmas Shop, located on Reykjavik's main shopping street, Laugavegur, houses all of your exclusive present ideas in close walking distance to various cafes and bars.
Most restaurants across Reykjavik serve their own distinctive Christmas menu from late November and throughout December. Perlan serves its renowned 'all you can eat' buffet offering fresh Icelandic salmon, smoked pork and of course turkey; all for an exceptional price. The restaurant itself rotates steadily 360 degrees, providing every seat with an incredible view of the whole capital city.
So relax in the Blue Lagoon spa, explore the countries unique terrain, take part in a revitalising outdoor adventure and escape that pre-Christmas stress within the beauty of Iceland.
To find out more about a stress free Christmas holiday in Iceland visit www.visiticeland.com