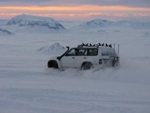 Winter travel is fast becoming popular, due to people taking post-Christmas holidays to relax after the stresses that Christmas entails. Consequently, Iceland is seeing an influx of visitors from all around the world.
Iceland is fast becoming one of Europe's most popular winter travel destinations. This volcanic island, located just below the arctic circle, boasts stunning scenery filled with spectacular lakes, rivers, waterfalls, mountains, hot springs and in the winter the breathtaking northern lights.
Understanding this demand, Icelandair, Iceland's flagship airline, has launched an incredible winter super-package that is not for the faint-hearted. The 'Super Truck Expedition' is an unbelievable three-night excursion through snow, glaciers, rivers and black sand all in the comfort of an incredible 4×4 Jeep.
Enjoy as you discover the moon-like landscape of the Reykjanes peninsula; filled with lava fields, volcanoes and craters. Alternatively explore the South coast and uncover its black sand beaches, glaciers and sensational waterfalls.
If that isn't enough, relax and rejuvenate your skin in the geothermal spas at the world renowned Blue Lagoon. Explore the bubbling hot springs of Geysir, the historic beauty of Thingvellir and the breathtaking sight of the Gullfoss waterfall – with so much to experience, make Iceland your favourite winter travel destination.
To find out more about Icelandair's 'Super Truck Excursion' and to book flights for the winter period, visit www.icelandair.co.uk