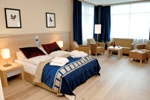 The Grand Hotel Reykjavik triumphed this year by accommodating the World record-breaking paralympic athletes of the 2009 IPC Swimming European Championships.
A winning performance was provided by the Grand Hotel Reykjavik for this year's record-breaking paralympic athletes throughout the 2009 IPC Swimming European Championships, held between 18th-24th October. Over seven days 73 European records and a phenomenal 24 World records were broken collectively during the event.
Since commencing business in 1995, the Grand Hotel Reykjavik has been at the forefront of providing exceptional wheelchair facilities for its guests. Its award-winning service has been recognised by Sjalfsbjorg, the national federation for physically disabled people in Iceland, as outstanding.
Positioned between the 2nd and 13th floors, a metre wide elevator allows guests unrestricted access for all use of the hotels vast leisure facilities and benefits. Each one of the generous fifteen wheelchair friendly guest rooms provides every visitor with the cosiness and luxury fit for any record-breaker. Each room is designed ergonomically barrier-free, spanning up to 30 M2, enabling the guest a stress-free vacation.
The hotel offers both traditional and international cuisine at the first-class a la Carte restaurant Brasserie Grand. Whether the guest prefers a quick snack or a four course meal, world-class chefs cater for the guests every food need by providing a delectable varied menu to suit any winner.
Grand Hotel Reykjavik is just one of the three excellent choices brought to you by Reykjavik Hotels.
For more information about the wheelchair accessible rooms at the Grand Hotel Reykjavik click on the link www.grand.is