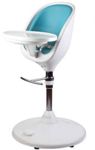 Leading British design company Seymourpowell, in conjunction with brand partner Brother Max, has recently designed the award winning Scoop High Chair focused on child comfort, simplicity and product innovation. The revolutionary design is already causing a stir on the baby product market.
With the aim of creating the ultimate baby high chair, the groundbreaking Scoop High Chair tackles frequent problems associated with traditional baby high chairs that concern both first time and experienced parents. The ultra-modern high chair, designed by Seymourpowell, contains no dirt traps due to its innovative hygienic 'Scoop' feature- a first in baby product design.
The incorporation of a pneumatic lift, operated by an ergonomic foot pedal, provides a safe height adjustment and secure seating for babies from 6 months old. A removable soft seat insert, available in a variety of colour-ways, flawlessly wraps around smaller babies comfortably to assure the parent a piece of mind. The High Chairs unique creative design also allows it to grow with a child of up to 5 years old by converting into a stylish stool and helping the ease of feeding at a family table, breakfast bar or sofa.
A smooth and sleek design insures that the high chair surface is notably clear from any hidden dangers and incorporates a removable table that locks into the chair without any visible fixings. A quick release mechanism underneath the chairs table surface allows for easy removal of the child and helpfully can be detached completely to enable cosy seating at any kitchen table.
With today's first time parents and homeowners in mind, the breakthrough Scoop High Chair can rotate 360º providing the ultimate in accessibility and flexibility within small kitchens. Movement on any surface is effortless due to the hidden gliding castors located on the bottom of Seymourpowell's elegant design.
Proud of his partnership with Seymourpowell, Jonathan Gold, Managing Director of Brother Max, commented: "We are delighted with the result of nearly 3 years of dedication, commitment and creativity from and with the Seymourpowell team, with whom we have worked so closely to deliver another truly-world class solution for the daily challenges of modern parenting.'
The Scoop High Chair, designed by Seymourpowell, has been awarded Practical Parenting magazine's 'Best Buy' and 'Hot New Buy' from Prima Baby and Pregnancy Magazine.
For more information on the Brother Max Scoop High Chair click here and to view more innovational product designs by Seymourpowell visit
www.seymourpowell.com/