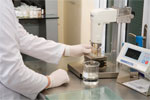 Teknomek today announced its specialist pharmaceutical and laboratory Web Shop has been launched and is available at www.teknomek.co.uk/Sector-shops/Pharmaceutical/ . The service provides design, manufacture and maintenance/servicing of specialist stainless steel hygiene furniture and equipment for the pharmaceutical and laboratory industries.
Tom Worth, the Managing Director of Teknomek said of the opening: "The pharmaceutical industry has come under enormous cost pressure in the recent downturn, and Teknomek is the only major producer to respond to this by developing a range of products focused on the pharma and lab industries.
Due to our unique business model we are able to combine top quality, durable products with leading edge design at a price that is affordable by large and small businesses alike. Teknomek has been supplying furniture and equipment to the industry for many years, but this is the first service that we know of to focus on the pharmaceutical and laboratory industries and their specific requirements."
Customers can visit the Teknomek website at www.teknomek.co.uk, or call to discuss their requirement and request a catalogue on +44 (0) 1603 788833.