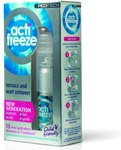 Leading British design company Seymourpowell has recently updated the branding and packaging for the 'new generation' PediTech Actifreeze wart and verruca healthcare treatment by Passion for Life.
The new PediTech Actifreeze canister is an over-the-counter wart and verruca treatment that freezes the affected area to the core, whilst isolating it from the surrounding tissue. Seymourpowell has created the branding with the sufferers well being in mind; conveying the products affectivity through bold and clear imagery.
Combinations of metallic and vibrant colours intend to make the product and the packaging reassuringly premium, yet accessible. Focus was also given to the unique pre-assembled format by making the packaging visible and highlighting the striking PediTech Actifreeze 'new generation' message.
Alison Free, Brand Manager at Passion for Life commented, "Seymourpowell have created an identity that challenges the category norms therefore giving us great brand presence at point of purchase."
Founded in 1984, Seymourpowell are one of the world's largest design and innovation companies. With the belief that passion for creativity makes for better business and a better world, the award-winning London-based group have produced some of the finest 'milestone' products of the last two decades.
To find out more information regarding Seymourpowell's innovational branding visit www.seymourpowell.com