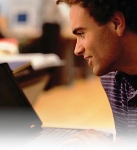 A leading company in the sales, marketing and distribution of pharmaceuticals, medical and healthcare products expresses its joy with its online SecurStore backup.
Veritas Capital is the parent company of Vistor, a leading marketing company for healthcare and pharmaceutical products; Distica, the largest distributor of healthcare and pharmaceutical products in Iceland; Artasan, a growing OTC pharmaceutical and food supplement provider and Ritara, a provider of electronic medical records. Veritas Capital has been using SecurStore online backup for a number of years for its total operation. Whether it is providing a contracted sales force or designated sales representative, or taking care of imports, logistics and distribution, Veritas Capital, together with its subsidiaries, is the partner of choice for a range of companies in the healthcare and pharmaceutical industry.
"As a company playing an integral part in the general health of a whole nation, Veritas Capital needs top of the line backup and recovery services. When we came across SecurStore they ticked all the boxes of our needs both on the security site and the operational site. With recent developments, such as backup archiving, VMware backup, message level restore and many more features, the value for money has increased. Every day in our operation we are under constant scrutiny, both from our suppliers and governmental agencies; so we cannot take any risks. SecurStore provides us with the necessary comfort regarding the health of our data," says Hreggvidur Jonsson, the owner and CEO of Veritas Capital.
"Veritas Capital has been with SecurStore from the early days. We are extremely proud to have a company of such status among our clients, which once again exemplifies the quality of the service and support that SecurStore can offer its clients which in many cases have versatile needs," says Orn Gunnarsson, the CEO of SecurStore.
Further details on SecurStore online data backup can be found at www.securstore.co.uk